The Park Hill / Gwesty Bryn Parc
Our Home is Your Castle
Enjoyed walking up Snowdon? Done the 25 km Marin mountain bike trail? Walked all day? Sore feet after shopping in Llandudno? Why not relaxing your muscles by swimming or just relax in the Sauna/steam room of the Park Hill? Free and exclusively for our guests' enjoyment, and you may do so anytime (You could even celebrate your birthday in the pool at midnight !)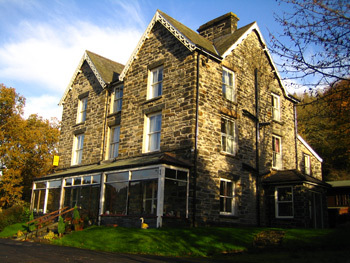 Family Run Country House : Home from Home

Jaap and Ghislaine hope you arrive as guests and leave as friends. Their greatest aim is to make your stay as enjoyable as possible without formality and pomp. They want you to feel the same hospitality and friendliness they expect to receive elsewhere themselves.

Park Hill is completely non-smoking, and renowned for warm, personal service and its teddy bear collection. Almost 200 teddies welcome you. Jenny, the largest of the bears and seated in her own chair in the lounge, is eager to say hello to the guests.

Questions about what to do? Jaap and Ghislaine would be happy to provide information, advice, books or maps. Being on holiday here themselves they know Snowdonia from own experience.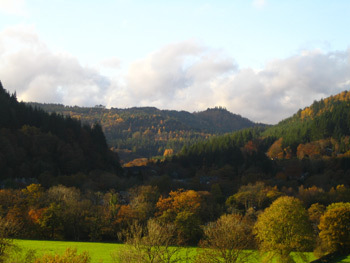 The building

The Park Hill/Gwesty Bryn Parc itself is a fine Victorian building built in the 1860s using local stone and slate.

The eight double/twin rooms are all equipped with all modern facilities, such as coffee/tea/hot chocolate making facilities (with biscuits), hair dryer, Freeview TV + DVD, alarm clock/radio, adjustable heating, free WiFi, complimentary toiletries [ironing facilities on request]. All were recently redecorated, double glazed and are all en-suite with recently renovated bath rooms..

The Park Hill houses in a pine log cabin a heated swimming pool (30ft x 12ft x 4ft 6', temperature around 29C/83F) with an incorporated Jacuzzi, as well as a Sauna. The cabin is connected to the main building by an indoor corridor.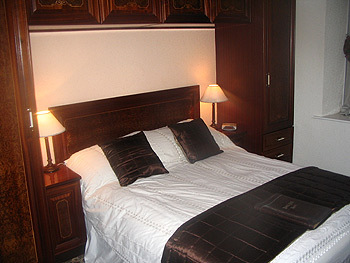 It is located at a slightly elevated position, surrounded by an acre of lush gardens.

From the front facing rooms and from the conservatory one overlooks the village of Betws-y-Coed, with a view into the Llugwy and Conwy Valleys and unto the surrounding foothills and mountains of Snowdonia .

The conservatory is an ideal place to unwind and relax at the end of your day (and we are very happy to cool your own drinks).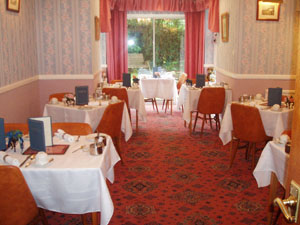 Park Hill has got a cosy guests' lounge where you can relax before heading for your meal in the village (some 700 yards walking distance).

For your peace of mind: the Park Hill's secluded and free car park cannot be seen from any public road or other car park, a very rare treat for Betws-y-coed.

Walkers, climbers, mountain bikers and bikers are welcome (we do have a drying room as well as locked mountain bike storage).

Coming by train or bus? We are very happy to collect you from Betws-y-Coed station with our free shuttle service.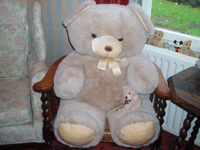 A Romantic Story

The resident proprietors and your hosts, Jaap and Ghislaine, visited Park Hill for the first time during their honeymoon in 1991. They fell instantly in love with it, with the views and location, they felt at home immediately. After visiting the place many times, they heard it was for sale. That first time in 1991 they promised each other: as soon as Park Hill is on the market, we'll buy it. Jaap and Ghislaine kept that promise and bought Park Hill.

For more pictures, tariff and further information see our web-site
Park Hill Betws-y-Coed
High Class Accommodation in Betws-Y-Coed, Snowdonia, North Wales
The Park Hill / Gwesty Bryn Parc Statistics: 997 click throughs, 37494 views since start of 2020
Guest House

,

Betws-y-Coed

,

Snowdonia
Tariff

Front facing d/t £39.00 - £45.00 p.p.p.n B&B
Side facing d/t £37.50 - £42.50 p.p.p.n B&B
Smaller Side facing double from £33.00 p.p.p.n B&B
2014 tariffs. These include free and unlimited use of pool and sauna and Free WiFi. Reductions for more than one night stays.

Grading and Awards

Guest House

Facilities

Contact Details

Check availability and book online

The Park Hill / Gwesty Bryn Parc

Llanrwst Road

Betws-y-Coed

Conwy

LL24 0HD

United Kingdom

Our Website

News & Special Offers

*******

Why not go for a short break (midweek or weekend)?

3 night special: £198, £225 and £234 (subject to availability)

******

Offers are automatically applied during checking for availability and tariff on our web-site
Park Hill Betws-y-Coed

**********
Member of the Armed Forces? If you show an ID we offer 10% reduction. Booking must be made by telephone 01690 710540 or email. Cannot be combined with other special promotions

******